Groups work as a unit problem solving skills to get through each element.
Cool off with a dip in the water.
We have swim time daily.
Each camp has a carnival night that includes inflatables, prizes, and games!
Canoeing in the lake with friends is a great way to spend the morning or afternoon!
Turn your creativity lose!
Make something unique.
Who doesn't love a good game of bubble ball, basketball, volleyball, or dodge ball?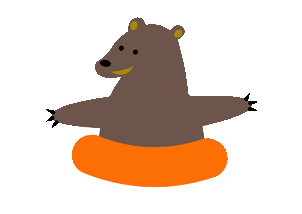 Both of our camping facilities offer excellent summer camping quarters. Resident and dining halls are air conditioned. We do not sleep in tents! And, for rainy days, we have more than ample room for fun inside activities. Life jackets and all safety equipment is provided. Fishing rods and gear is provided too. What are you waiting for? Send in your application today! Space is limited.
Is there a pool at camp?
There is a pool at the Midlands camp site. The Upstate camp site has a gorgeous lake. Water fun at both camps!
The food is delicious! We have three meals per day, a "refresh time" in the afternoon, and a bedtime snack.
Can I bring my cell phone/iPod/iPad?
The safety and privacy of our campers is paramount. Therefore, we restrict the use of cell phone/iPod/iPad (s). Campers will not be allowed to use these or to text while at camp. We will not be responsible for these items if they are lost or stolen, and if they are found, they will be taken and returned at the end of camp.
Can I stay in the same cabin with my friend?
Maybe. Campers are grouped by male/female and age/grade level. We make every effort to accomodate friend requests.
No. We will be having way too much fun to watch tv. However, we do have a movie or two tucked by for rainy days.
No. We sleep inside in very comfortable accommodations, with air conditioning.
How often will my child's blood sugar be checked?
Each cabin is assigned a medical volunteer that assists with fingerstick glucose checks before meals, at bedtime snack, at midnight and any other time campers need extra glucose checks. The entire team monitors blood sugars to make sure they are in a safe range.
Campers are not allowed to call home; however, in the event that a parent/guardian is needed, someone from our medical team or our camp director will contact you.
Will my child be allowed to call home?
Do I need to send a meter, insulin or pump supplies?
You do not need to send a glucometer or insulin. We have plenty of glucometers/test strips, and insulins. However, because there are so many different pumps, please send enough pump supplies for your child to change his/her site every 2 days, plus an extra change.
Do you have diabetes education classes at camp?
In a way yes and in a way no. We do not have formal diabetes education classes at camp. However, we do incorporate good diabetic habits, carb counting, and teach different management concepts during the daily camp routine through different games, meals, and real-life situations. You will be amazed at what children will learn while at camp, as well as what they learn from each other.
How many trained medical staff are at camp?
Our medical director, Dr. Chris Houk, is a pediatric endocrinologist with years of experience operating diabetes camps. In addition to physicians, we also have paramedics, nurses, Certified Diabetes Educators, Nurse Practitioners and Physician's Assistants as part of our medical team. We attach at least one medical team member to each camper group (roughly 10 campers per group).